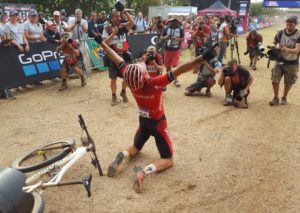 The unbeatable Nino Schurter has finally been beaten in Mountain Bike World Cup racing after sweeping the 2017 series, with New Zealand's Sam Gaze (Specialized) out sprinting in him in Stellenbosch, South Africa, for the opening round of 2018.
Gaze and Schurter were evenly matched through the race, with each responding to the others attacks on the short, steep climbs. Gaze took the front for the final two kilometres and attacked over a bridge in the last 200 metres, leading as they swept around the final corner onto the grass straightaway. He clearly had the lead, with Schurter on his wheel but unable to come around, and then Schurter pulled his left foot out of his pedal, ensuring the win for Gaze, his first ever Elite World Cup victory.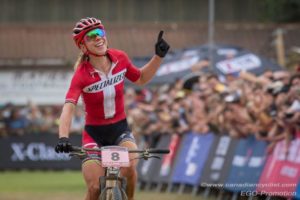 Annika Langvad continued her remarkable streak of wins at the opening round of the Mountain Bike World Cup, winning the Elite women's race for the fourth consecutive year on Saturday in Stellenbosch, South Africa. Missing from the start was defending overall World Cup champion Yana Belomoina (CST Sandd American Eagle), who is still building fitness after breaking her hip last Fall.