Haven't been to Belgium since I was a kid. What's it got to offer? Is the draw of beer-soaked hooker waffles enough of an incentive to pack bikes and travel the 3000+ miles to check it out?
Well the answer is, it's got cobbles, bergs and one of the greatest spring classic cycle races, the Ronde Van Flaanderen. Not only that, as an average joe you can ride the pro course the day before they do. What other sport lets you do that? Kick about pre kick off in the Maracanã, spin round Monaco Grand Prix course in Hamilton's Mercedes……I think not.
So, it was, five of us congregated at the airport on a Wednesday night rather than join the Bicycle Works shop ride. Actually, we had been putting in the hard work since January because the Ronde Van Flaanderen or tour of Flanders is one tough thing to ride. We felt ready though a few of us were holding of winter colds as we boarded to London.
Cars collected after a minor delay trying to get vehicles big enough to take all our bikes. (Hire vans can't be taken to the continent) we were off towards Le Chunnel. Pre Brexit the M20 has a 13-mile lorry park and bad signage had one of us suffer in that for a 30mph sleep inducing contra flow.
Tunnel was a breeze and 60 minutes after checking in we rolled through Calais on our way to Gent. Us brits have declared it should be spelt Ghent to avoid confusion with a male lavatory. Thing is it couldn't be really, it's one beautiful city, canals and medieval architecture abound.
Outdoor male urinals seem an homage to the great beer brewed in this part of the world and a simple structure that all major cities should have. Look forward to pulling down my zipper on Broadway or Oxford street.
Saturday arrived and the day of the amateur ride, four distances to chose from starting at 75km and the big boy 225km. The big one as 60km or so of nothing before the fun of cobbles and climbs start so some of us opted for the 175km route and some 135km.
It was nippy for us Bermudian climate spoilt cyclists at 7 in the morning. Every piece of clothing on, bikes stocked with fluids and a small hamper to keep us going on what would be a 7-hour ride. It was truly epic. Dry conditions helped but a truly relaxed ride. Depart when you want within a certain time frame meant no standing in line to kick off just roll through and away you go. That's what we learnt from this, go as a group and ride in a social way. We didn't because fondo's like the one in New York had ruined us.
It's not a race it's an adventure, the cobble sections, the sections where you must cross traffic and the bergs mean a beat the clock time is impossible so take it for what it is, a century ride in the heartland of cycling heritage. Stop to smell the waffles, make a day of it with your mates and take it all in.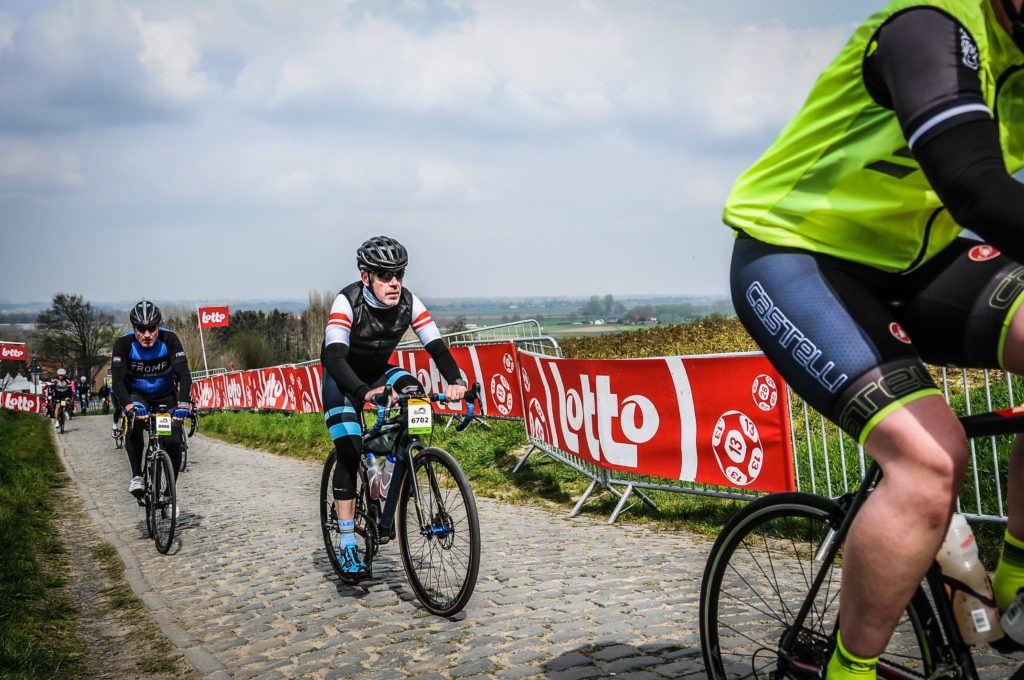 Sunday, we had arranged to watch the pro's in a VIP tent on the Kwaaremont climb, a brutal cobble punch you in the nuts kind of climb that the pro's would loop 3 times. VIP was truly that, amazing waited on hand and foot, superb food and drink non stop all day, big screens and you are 3ft away as the pros conquer the hill at 3 times the speed you did. They even provided glorious spring sunshine. Cannot recommend this experience enough worth treble what they charge if you think it's expensive, experience it and you will think you got beyond value for money. Race ended the tent closed down with a band that seemed to be a mix of Tiesto and Dixie Chicks, wacky but it works in Belgium as the tent bounced up and down with drunken hands upindeair action. A truly superb day.
If you have Tour of Flanders on your bucket list, do it. Weather will obviously effect your enjoyment but if you luck out like we did it's right up there as the best weekend you could have on your bike.