BCBR was the main course the only problem was the Pisgah Stage race I took on as an appetizer in April, and a taster of mountain bike stage racing had left me with a very severe ankle injury.
A bucket list event, and something that needs some good training if you want a respectable finish the BCBR was now going to be a matter of survival.
Didn't start well. My bike decided to stay in Toronto going around on the carousel rather than join me in Vancouver. 3 taxi rides, a sleepless night, and I managed to get reunited with bike briefly before I debagged it and handed it over to be packed into a semi where it would live when not sharing my pain for the next week.
Weather was warm and running around like a headless chicken to make registration was not how I envisioned my pre-race day. Laying down with my feet up allowing my kankle to return to normal size after air travel seemed much more ideal.
Day 0 as they tag it, and after a two-hour briefing about the dangers of dehydration, bears and cougars. Not the cougars in Whistler but those we may encounter on the trail. We boarded buses and headed to Horseshoe Bay for our first BC ferry ride.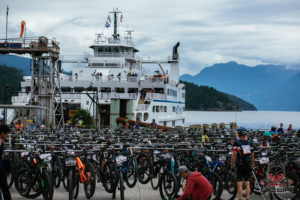 The poor canteen staff aboard did not know what hit them. Awesome eateries by municipal transport standards were overrun by six hundred ravenous off roaders. A ninety-minute ride through the Fjords had amazing views and we were loaded on another bus for an hour ride to Cumberland. A one Road Town that has been the race start for the last few years.
Here is how basecamp works. You arrive and find your BCBR issued race bag with your weeks clothing and touring needs enclosed. Pick up your race number tent tag, and scramble for one of the pre-erected 400 tents. Trying to grab a tent with a view and asking your new neighbor's whether they snore or fart a lot became easy questions to ask as the week progressed.
Then you locate the place designated as the food hall and plod along at your one of the three designated seating times to refuel. Food would vary, but gradually improved as the week went on. Sticky toffee type deserts made more appearances so that constitutes improvement in my book.
Day one and was a 43km out and back loop returning to Basecamp in Cumberland. Get back early enough and you got transported to another Ferry ride. Get back later and it would be a long night as the next ferry was after 7pm. The first day you self-seed and select your hundred-strong start group on what you think you can complete the loop. With my Ankle, I opted for the 4th group. A mistake I would come to regret.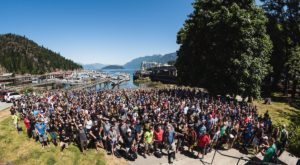 I rode very timid on some very demanding trails as I gingerly tried to protect my ankle. I had quite a few low speed tumbles as I failed to clear some tricky obstacles because of this. Traffic on the trails was huge. Come out the line of mountain bike worker ants, and it took an age to find a gap and get back riding again. Without good training at 30km, I had, had enough but the course continued to punish and the dry hot trails had me limping into camp at just under 4 hours. The pro's did just under 3. I had however made the first Ferry. This is where the race gets hard. Logistically the volunteers do a fantastic job moving a small town every day. However, having just completed a very tough 4 hour mountain bike race, food a shower and a bed are replaced with a queue for bus/ferry/shower/toilet.
So, a bus and a ferry it was. I made sure I was first in line for the ferry skipping the toe dipping on the nearby beach and sprinted the stairs with my cramping legs to be first in line for the bunny in headlights canteen staff on the ferry to Powell River.
Arriving in Powell River we were greeted like heroes the whole town turned out including the local bagpipe band. As the license plate stated Pipers do it with amazing grace.
We would stay in Powell river two night meaning perhaps a chance to relax. However, being on the first ferry was all well and good but our travelling shower trailers were on the second. The tents were along the beach in an idyllic setting so the ocean was my bath for the night. But first a queue and a bus ride to dinner. Are you noticing a theme?
Day two was an out and back from Powell river. The bikes were always loaded on the trucks overnight so after racing you washed your bike as the first task and handed it over for the night. This meant you had limited time to check your bike most mornings. You could leave it with the travelling shop who did a fantastic job by all accounts, but, if like me you want to look after it yourself it was another snatcher of recovery time.
Luckily my Specialized Camber was faultless all week and the perfect tool for this job.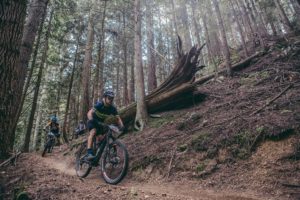 Still a queue on the trails during day two, my back seeding left some big groups to try and ride through. 52km in length another tough stage but I was slowly regaining my confidence and, groove and cleared everything only tumbling in some slow points where riders ahead had struggled to ride.
Back at basecamp and a chance to recover. I headed up a 3km hill from the beach, which my legs were thanking me for, at least I think that's they were telling me, to an afternoon snack in Micky D's and free wifi. Collected some mineral waters from the local liquor store and retired to my tent to watch the sunset which equated to lights out and into la la land ready for day Three.
Early morning of day three we loaded on to buses for shuttling for more ferries. Luckily, I had won a draw to be transported by sea plane. A first for me and, good fun but unfortunately it dropped me at the ferry terminal/race start 3 hours before the ferry would arrive with the bulk of racers and the race would start.
This day is renowned as the toughest day. The longest at 57km but also the most elevation. Also, it did not start till 11am and it had been hot the previous two days. Fortunately, clouds had made an appearance and the temperatures lowered slightly.
This day was a slog and it had some brutal climbs described as "punchy" some sections had queues of hundreds of riders pushing bikes up loose super steep pathways that resembled dry rocky river beds. I was riding better and climbing past many riders but the going was slow and some locals you passed on the ascent would catch you on the descent.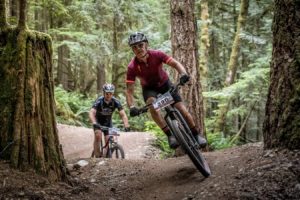 The trails so far would have some flowy sections but generally they were rooty and rocky and that made momentum tough and they beat you to a pulp.
Day Three dusted and we were dusted, we rolled into a municipal park and formed a queue for tenting. This night would be the loudest for me. My nightly ankle helper of codine tablets had been assisting with my sheep counting but tonight I had camped next to a gaggle, if that is the correct term for a group of Australian girl racers.
With mouths like dockers and incessant chatting. I fell asleep and, was awoke far too early to these dulcet tones.
There were a great number of Aussies on this event. Maybe due to the fact of it being a direct flight and a few who I chatted to did well in their perspective categories. However, I have never given much thought to the Antipodean race originating from HMP Australia. I learned here though, that they have quite a hatred for anything English. For instance, Geraint Thomas was to be looked down upon but once discovered he was Welsh could be cheered going forth.
Day four would be a ride from Sechelt (pronounced Sea Shell, silly) to another ferry ride. How lovely had not been on a ferry for so long….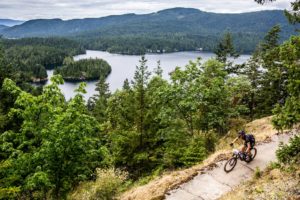 Again, I made the early cut and the first ferry and then a bus to close to where we started in North Vancouver. Civilization was a welcome sight and I skipped dinner and stocked up in Safeway and had a nice take out and coffee. I even had time for a haircut as the oppressive heat and my fringe getting in my eyes needed attention. Actually, my head has long since had a secondary purpose as a hair farm and the nice lady took all of five minutes to clean me up with a razor.
Day five was my favorite. Short and sharp only 18km in length, a time trial in effect. An 8km tarmac climb then a turn onto a black rated North Shore descent. North shore has become famous for its trail design. Bridges, Gnarly drops and gaps and more woodwork than HGTV.
My bad seeding meant a lot of riders to clear on the road section, but I did so and I cleaned the descent for my best overall finish of the event. If only I could have started a little further up the field.
Back to basecamp and another bus ride to Squamish.
Squamish has a reputation as the cross-country riding area of BC and it did not disappoint. Mind you we were still not given an easy ride as some parts of the route were still gnarly rocky, rooty trails that slowed you and punched you in the gonads like a feisty four-year-old.
We had the luxury of not having to move on day six and camped overnight in Squamish and so I cut through the woods and hopped the highway to a local micro-brewery and if I could remember I am sure it was well worthwhile.
The last morning, we were bussed to Whistler. The last stage was no walk in the park and took a lot of mental fortitude to finish with some tough climbs and scary rocky outcrop drops. Finish I did after just under two and a half hours.
BCBR done and dusted, truly with no rain all week well dusted. A very tough event not only for the racing but the logistics of continually moving and never really having to time to adequality rest and recover.
After these events, you often say never again then memory dulls and you find yourself a year or so later signing on for round two. Though sorely tempted to see how I would do with two functioning ankles and some proper pre-race training, I must say never again. BCBR always had it on my to do list. Well I have done it. Fantastic part of the world with some fantastic riding but, many other parts of the world need reviewing too.