Zermatt our base for the tail end of this trip was fantastic. A car free zone we entered by parking up the van and taking the train the 20 minutes to the town itself.
Pure chocolate box and in the shadow of the Matterhorn we loaded a local electric taxi and drove the Bahnhofstrasse to our hotel.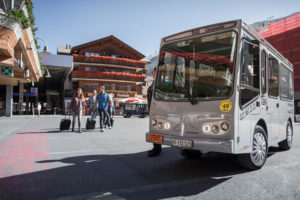 Due to the flat tire on the van we were late to the hotel so a quick wash and to dinner.
Zermatt is a lively place very touristy but a great base for us as the hike a bike would cease and we would use the multitude of ways to ascend the mountains and bomb back to town before doing it all again.
First morning we boarded the train to Gornergrat. An observation area overlooking glaciers and the Matterhorn. Well it would if it wasn't shrouded in mist. So all we got to see was 200 Japanese tourists. Some doing their best Elvis impersonations it was fun and I had seen lots of mountains on this trip.
We wrapped up as the temperature was hovering around freezing and felt wimpy as a local building worker went about his tasks in a wife beater.
The descent was a biggie of around 11,000ft and the dirt was grippy and it was all ours an experience that will always be there and will be used as a benchmark.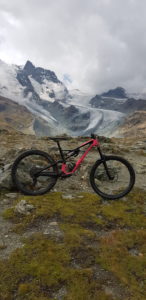 Into town and lunch at Fuchs for a sandwich. Fuchs are very popular in Switzerland and though a bakery chain I found it very amusing that most Swiss like to have a Fuchs for lunch.
For some reason we went back up a different route by Gondola to eat our lunch in the cold. Guess too much Island heat as made me soft.
So, this is how we spent our last few days. Using every form of up available. My favorite was the Funicular that went through the mountain. Before descending to town.
Zermatt is fun in the evening and must really rock in ski season. Don't tell anybody but mountain biking is not widespread in Switzerland to the extent of bumping into other riders or queuing for anything like a ski lift.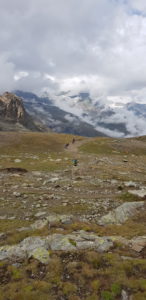 The last night I escaped without doing fondue as the restaurant was fully booked. Lucky me the smell at the doorway was truly over powering and I could not understand how you could sit down in there and not pass out. Besides if I was to rescue any stranded waitress in Zermatt how would I persuade them to join me smelling of bad melted cheese and oil.
All too soon we were done, and I packed up and used the all too perfect transportation system back to Geneva. A fellow passenger did tell me to turn down my headphones!
Switzerland what a place, don't tell anybody though or play your music too loud to wake them up. When I go back I may still have it to myself.
Big thankyou to Myriam Saugy our guide and mother for the trip she left us alone enough to find our boundaries but looked after us enough to feel loved.
Big Mountain Adventures for the groundwork on an epic trip Cloudraker. www.ridebig.com
Lastly to my two riding buddies Brian and Brad for the wine education and happy trails.