Early morning rise at the Weisshorn hotel and a little nippy as we left to make our way via another range back to the van.
Nice technical descent past the Funicular we had used twice the day before to a gondola and another up.
Alpine descents for those that have not ridden them tend to have a pattern. They start above the tree line all moon scape and big boulders. Rocky and open with exposure at times before edging into the tree line and still rocky but easing before finally making it down the height where man as deemed inhabitable and we get flowy and loamy and fast.
On this one, the top was particularly rocky and while descending rocks you must keep speed. Speed is your friend because if your moving, you roll over stuff. However, it can also bite because if you get it wrong your crashing at speed, on rocks.
So, I got bit, fortunately for the last time on this trip. A sniper rock hidden beneath a shrub just stuck out far enough to smash my wheel with enough force to break off and wedge between the rim and tire.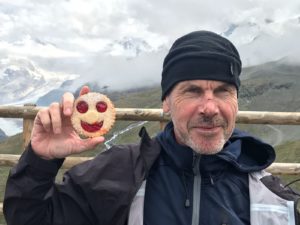 Faceplant and I thought I had lost teeth and as pulled myself together and spat blood while I waited for the others to come up on me.
Myriam was pleased she got to use her first aid kit the MBGA (mountain bike guides association) insist she carry. So, rubber gloves donned she set about washing my face as best she could.
Great descent though and we arrived in a German swiss town at a little after 2pm. A long ride since breakfast and our options were a 40-minute road ride to the van or a café stop, and Myriam would hitch hike back to the van. I was a little sore and hungry but open to both. Luckily my companions decided a café was in order and Myriam could polish her thumb in preparation.
3 beers later Myriam had not returned. Turns out our only mechanical of the trip was on the van and she had come upon it with a flat tire.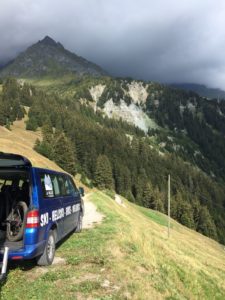 It took a few hours to get repaired. Time we spent watch the waitresses change shift at least twice before we loaded up and headed to Zermatt.