Mountain Biking Switzerland Part One
I had been looking forward to this trip for almost a year since I was the first to book with Big Mountain Adventures back in December.
I knew it would be a small group and I had some trepidation as both my companions were British Columbia natives and there for would be a bit warm on a mud bike. I had supplied my booking partners,  with my commiserations for not having anywhere to ride and, train unlike me in the MTB mecca of Bermuda.
Arriving early evening in Geneva. Swiss precision started straight away with the train station inside the airport and my train departing exactly at 8:02, like clockwork.
As a side note I checked the time table for ten minutes on roaming and got what is called a data dump.
For the normal people of the world traveling currently with PDA's it's a non-stressful experience but those of us here, and subject to the two communication monopolies beware I got wacked $1200 to check the train time.
This was not to be the last time I was impressed with the Swiss infrastructure to move you and your bike around country and up mountains.
Collected by our Hotel owner and driven deep into the mountains and deposited in what I can describe as a bunker, but the Swiss may call a garage. 11;30pm and time to build my bike for an 8:30 start.
I had checked the weather before I left, and it said wet and mostly cold hence my heavy suitcase with winceyette pajamas and thermal underwear. I awoke to glorious sunshine and the promise of a sunny day. Weather forecasts, rule 1, look out the window.
Continental breakfast, all well and good but we built an empire on a good fry up and a selection of processed meats and cheese as always left me as cold as the charcuterie. Don't they know we were intending to push pedal all day.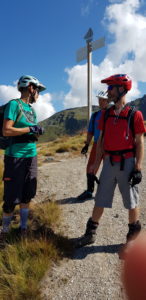 Myriam our guide appeared a vision of blonde punk hair do and fitness. An ex pro mountain biker she would prove all week how to flip the phrase you ride like a girl…
We left the hotel for a quick descent to the Verbier gondola's and for Myriam to cast a judgmental eye over our off-road skills. I think I fooled her, having not ridden off road for five months due to a broken wrist and having never ridden my new bike at all, apart from to the doctor's office to have my wrist checked I was on a steep learning curve, but, she put me second in line.
Brad the guy who would have the job of coming upon my body sprawled in the dirt on several occasions was riding gingerly having torn both shoulders and awaiting repair did not want to incur greater damage. The chap we would all chase, Brian was so good he was on a hard tail, madman.
The day set the pattern of epic uplifts, using Gondola's, Trains, buses and Funicular's. Traversing exposed single tracks and gnarly steep switch backed descents. What surprised me having ridden road in the French alps, was the steepness of the Swiss version. The valleys sit below like you could run and jump and land in the village.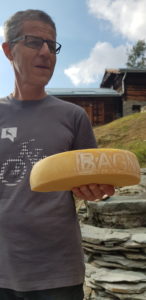 We finished the day amongst rumbling thunder high up in the hotel proprietors summer cabin experiencing raclette a Swiss specialty of fire melted cheese and boiled potatoes. I stopped after 5 servings for fear of too many nightmares.
To be continued….