As I write this I think I am experiencing post adventure blues. When you focus on something for a long period of time then the event itself is all encompassing and you just concentrate on riding your bike.
It ends and it's like you have been spat out the other side into a void of nothingness. I yearn to be back in the mountains, oh well.
The second day was perhaps the hardest day, JM the hotel owner drove us straight up to a massive dam and if you can picture James Bond and Goldeneye and you have it. Grey industrial concrete was matched by the skies. Visions of guys in batsuits leaping off filled our minds.
We left from the top of the dam and pedaled up about 1500m through a water dripping tunnel. When we popped out the other side we were at the reservoir and the sky was brilliant Azur like the water.
We pushed on and it was hot as we climbed and climbed till we could climb no more. Then we had to adapt a new concept to me. Hike a bike. Now I will try to ride my bike up anything in fact I love climbing on my bike. Carrying it does not compute.
I had the heaviest bike I think, and the smallest hydration pack and I think the pack helps in that you can rest the bike on it.
Sixty minutes of pain ensued, and my thighs stung as we ascended cattle tracks and dodged pats. The cows all majestic in their leather collars and bells stay up here in the summer and even get milked here almost individually with hand-built contraptions made to traverse mountains.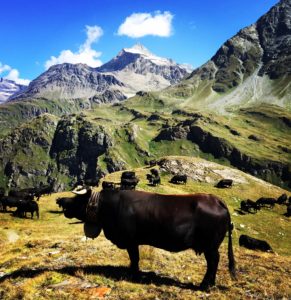 In these days of mass produced everything it was refreshing to see the care given to Swiss highland cattle.
Stairmaster session over we pushed and carried literally on till we reached the summit and the Italian Swiss border.
Lunch was taken on the peak amongst glaciers and man-made stone wind shelters. We then descended and traversed into Italy. We joked with our guide how things were so much nicer in Italy. Not true but I am not one to miss a wind up.
We had a tough afternoon of traversing our way along irrigation tracks known as Biss. Three-hundred-year-old irrigation channels meant to stop the water going straight down from the mountain but to be diverted for farming. The are accompanied by fantastic single-track.
Job done we descended more and arrived in an Alpine Italian town for beer and a superb meal.
Shuttled back through the Mont Blanc tunnel we arrived at our hotel around 11pm shattered but fulfilled. This week if I survived was going to be Epic.