I felt embarrassed, I felt out of place and I felt sore. I sat on the pristine white outdoor couch of the modernist glass walled, cubist wine bar, covered head to toe in dust and a little blood.
The lawn of the wine bar in Fully, was dotted with Tuesday afternoon happy hour patrons. We 4 and, well me especially looked out of place. The good thing was though nobody really batted an eyelid.
I washed up as best I could and drank my shandy.
The day started with JM driving us up past the gondola drop off to save us some road miles and when the tarmac stopped we unloaded.
A full-on hour slog of fire road climb ensued as early morning sun started to get the perspiration flowing.
All to soon the road stopped and my favorite past time of hike a bike took over. Straight up. We could see what we were aiming for, a signpost about 500m above us. 500m vertical does not sound like much but it was about a km of bike lifting.
Once there we turned right and rode awesome single-track to an escarpment ridge for lunch and a view of two valleys. The one we had drove thru and to our left the Rhone valley.
We crested the ridge on a trail named Portal. This trail had exposure. Exposure is a traverse trail generally, were deviating from the trail can have some consequences if not wearing a parachute or jet pak. It takes a bit of focus to watch the trail and not the exposure. The adage you look where you go is never truer than on exposed trails.
We hit some flow on tree lined sections as we descended. Our guide was keen to try a trail she did not normally use. Our ability had made her feel confident we could tackle a super tough descent into Fully.
Count the switchbacks she said, I gave up after about 40. The trail was dusty and super rocky, and switchbacks are a definite skill on a mountain bike. Depending on the severity of the turn and the steepness plus the type of trail it can all add up really challenging aspect of mountain biking.
Brian on the hardtail was acing the turns and I thought I was getting the hang of this on my new bike.
Thought wrong entering a dusty switchback too fast, I looked where I went, off trail. The front washed, and I exploded in a cloud of dust and slid 20yds down. Lucky as another 5yds and I would have enjoyed my exposure with a freefall of a few hundred feet.
I could not get back on trail without help as it was so steep. Gingerly I made the bottom, but I was hurting. When I broke my wrist I also broke ribs and they had took another wack and were not happy.
I think we counted over 90 switchbacks before exiting into the vineyards and a road ride to the wine bar.
Bruised body parts and bruised ego, we made a paceline to our stop. I took the opportunity to use my roadie legs and show that I can eat dust but so could my companions as I made them breath a little heavy on reaching the winery.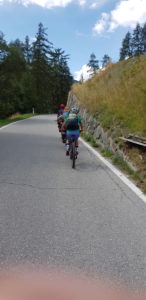 I made full use of the hotel steam room and JM made us our farewell dinner of steak served raw but with heated local stone that you cooked your steak on. Was a superb meal and JM treated us to Valais white wine and local apricot schnapps to round it all off.
We departed next day and stole JM's hotel van. Easier to move us around in we drove for a while before stopping in a lay by and unloading to take a bus!
Seemed odd but when the bus appeared all luxury Swiss public transport and 24 bike trailer attached it made a bit more sense.
It went straight up tooting its substantial horn on the hairpins and making sure mere mortal car drivers got out of the way. Unto a village and a small depot, the trailer was unhitched and attached to another bus that would take us up even higher.
Once in this village we pedaled a little to the town Funicular. Straight up in the wacky angled train we pedaled another brutal climb to the Hotel Weisshorn.  Nestled at 3000m this ancient hotel is so remote the staff live there rather than commute like oil rig workers.
We dropped off our nightgowns and preceded to ride more exposure single track. Descending into a chocolate box town for coffee and gelato.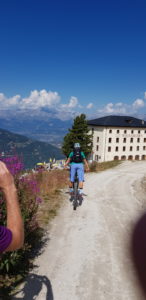 In my own mind I have a fantasy whereby attractive waitresses/cashiers need rescuing by me from there mundane existence and join me in my jet setting playboy lifestyle. Need less to say I had yet to complete or even begin a rescue mission but our gelato hostess was on the list.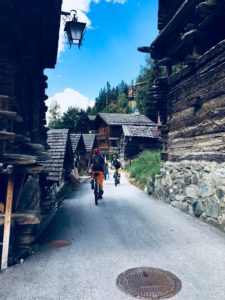 A road ride of about an hour was followed by the choice of a 20 minute hike a bike or a 8km uphill road ride. I chose road.
Defunicularing the funicular we had round two of the brutal climbs to the Weisshorn hotel. Another good meal and to bed, not a sound sleep I may add. Paper thin walls aside I could not get the shining out of my head and nodded to and visions of Jack axing thru my door announcing Daddies home.